Live in Los Alamos
"Great food from a super-friendly dude!  Meat eaters were thrilled, but so were the vegetarians.  Dave made coleslaw lovers out of many who claimed they hated the stuff.  My crowd wants these guys back!" Jonathan, Director of Live in Los Alamos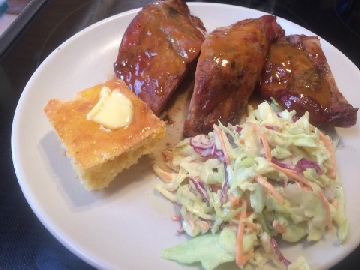 We loved the dinner...
"We loved the dinners so much. My friends and I agree that these were the best ribs we had ever had. Perfect!" Deborah H, Santa Fe
WOW or as he correctly states: yum...
"Stopped by Dave's today, just finished dinner: WOW or as he correctly states: yum. The ribs, the star of this party were outstanding. Moist, meaty, tender. Dave's sauce is very unusual and I really enjoyed it on the ribs. Corn bread was moist, not too sweet with good corn flavors, great texture. Now the slaw. I'm NOT much of a slaw fan, it's usually too strong cabbage tasting for me, or overly saucy. Not this recipe. I really found I can enjoy slaw and it looked (and tasted) pretty darn healthy with fresh ingredients. Did I taste a subtle anise or similar flavoring? Whatever, it was a refreshing change. And that sauce…. I know I mentioned it, wow/yum. You don't have to leave Eldorado for really over the top BBQ. Thanks Dave!"
Andrew R, Santa Fe
Dave provided perfectly sliced pieces from the Flat and the Point. ...
"As I stated earlier, I purchased two pounds and Dave provided perfectly sliced pieces from the Flat and the Point. I wanted to try his Brisket because it's the most difficult meat to BBQ. Pulled pork, chicken, that's easy but Brisket is super challenging. One of the issues with the Flat is it can be too dry, or the point can be too fatty. That wasn't the case for either side of the brisket I got from Dave, both were super moist. The way the fat on the Point rendered with Dave's rub was simply out of this world. I can only imagine what his Burnt Ends would taste like. The amount of smoke, whatever wood he uses is ideal; subtle enough to really taste the meat but still part of the BBQ flavor profile. Not that it's really necessary, the meat did have a lovely smoke ring. That's a good sign but not a must have IMHO. Even though the meat was in a sealed vacuum bag, refrigerated a day and then reheated (as per Dave's instruction), the bark was still crispy on the Point. Dave's rub is outstanding as is whatever wood and amount he uses. It doesn't overpower the meat it does what good BBQ should do, honor the meat. It also had no BBQ sauce nor did it need any! I did pull out my home-made BBQ sauce and had it both ways but seriously, no sauce is necessary. Heat and eat. It's that good.
Last year my wife and I took a road trip to Austin TX and had some very good BBQ. No, I wasn't about to spend four hours in line for Franklin's but had some superb Brisket at Stiles Switch BBQ and Brew among a few others. I really believe Dave's was better! I can't believe his Brisket wouldn't be even better at a restaurant where the meat comes off the smoker san's plastic bag and reheat. That said, I was very impressed at how well the bag/water bath reheating process worked.
I dabble a bit at BBQ at home, got a very good albeit electric smoker, I'm super jealous of Dave <g> but I'm actually OK now that I can get this insanely great BBQ in of all places, Eldorado. I don't think the other three BBQ restaurants in town, and I've eaten at all, compare at least in terms of BBQ Brisket. But a blind taste test could be fun. So go Dave, go; get that BBQ joint setup at La Tienda and I'll be there often. Amazing BBQ! If and when you do BBQ brisket burnt ends, I'm down for a few pounds. Your BBQ rocks man."
Andrew R, Santa Fe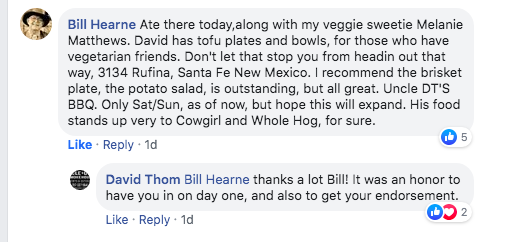 From Bill Hearne, Texan... legend.
Ate there today, along with my veggie sweetie Melanie Matthews. David has tofu plates and bowls, for those who have vegetarian friends. Don't let that stop you from headin out that way, 3134 Rufina, Santa Fe New Mexico. I recommend the brisket plate, the potato salad is outstanding, but all great. Uncle DT'S BBQ. Only Sat/Sun, as of now, but hope this will expand. His food stands up very (well) to Cowgirl and Whole Hog, for sure.
OMG!! Your ribs were amazingly delicious...
"OMG!! Your ribs were amazingly delicious…killer sauce too!! The cornbread was very fluffy & tasty, I liked the consistency. Coleslaw was tasty, although there was an after taste I did not like, acidy. But the entire meal was delicious. Thank you David! Will be back!" Annie H, Santa Fe
We just had the chicken and ribs...
"We just had the chicken and ribs with the coleslaw and cornbread. Fabulous !"
Brigitte B, Santa Fe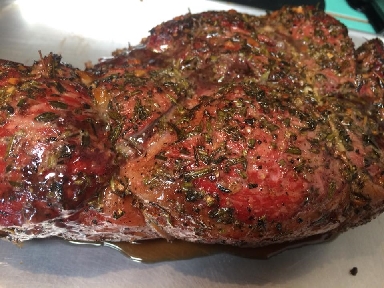 The lamb was awesome!
"Hi David, The lamb was awesome! My wife even said it was the best lamb she's ever had! Very good. We will be ordering more smoked meats this spring and summer from you. Thanks again for having such a great hobby!"
Michael G, Santa Fe