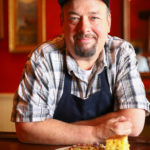 About Us
Welcome to Uncle DT's Smokehouse!
We are a catering, events and take-out BBQ located at 3134 Rufina St. in Santa Fe, New Mexico.  All of our meats are cooked using heat and smoke generated from real wood, and you can taste it.
We got our start selling simmer-in-bag BBQ out of our commercial kitchen, as well as at farmer's markets and events.
Best MEAT
Uncle DT's uses the finest all-natural meat that New Mexico has to offer. As we grow, we look forward to establishing relationships with local ranches that produce sustainably-raised livestock
Quality RUB AND KILLER SAUCE
The sauce is a secret recipe, and it's not complicated. But good gol' dang, it's good! Our rub rocks, too. Both served on the side at all events.
Perfect SMOKE
One of DT's favorite compliments is when a customer raves about the amount of 'smoke' on the meat. Simply said, we do not over-smoke. It is gentle, but prevelant.
We offer event and catering services in the northern New Mexico and southern Colorado areas. Get in touch for more information